For the longest time, academic Shakespeare specialists have simply ignored the so-called authorship controversy. In the face of a steady stream of books proposing one supposed "real Shakespeare" after another, we in the academy have largely shrugged and turned back to the kind of work we consider important, relevant, and worthwhile; and most of that work has nothing to do with identifying shadowy figures allegedly hiding behind the "Shakespeare" tag. "Authorship Studies" is a recognized subfield of the academic Shakespeare industry, but it doesn't concern itself with what the self-styled skeptics are interested in; as Brian Vickers recently made clear, it "exclude[s] the legion of misguided souls who deny [Shakespeare's] authorship or even his existence as both actor and dramatist."
I have a lot of sympathy for this attitude. I completely understand it, and for many years, I have shared it. Anti-Stratfordians love to misinterpret the cold shoulder the academy has almost universally shown them as an ostrich's: they think our trembling heads are buried, not in the archive or the library, but in fear. Personally, I have never, ever met a single Shakespearean who is afraid of the Earl of Oxford. I have met many who are deeply, profoundly bored by the debate. And I have met a significant number whose reactions to the discussion fall somewhere on the spectrum between irritation and rage.
Boredom is a perfectly understandable reaction. Many of us, after all, work on research for which the question of authorship is almost entirely irrelevant. Speaking for myself, I'm fairly confident that not a word I've ever written about Shakespeare's plays would be invalidated if we discovered tomorrow that all of the works were in fact authored by a hitherto unheralded haberdasher's son from Ashby-de-la-Zouche. Or by the Earl of Rutland. Despite the biographical virus that has swept through the ranks of senior Shakespeareans in recent years, the vast majority of academic publications on early modern drama have little or nothing to say about the presence of authors in their works; in the absence of biography as a critical category, arguments and conclusions aren't profoundly affected by biographical controversies or revelations.
Explaining the various shades of anger would take more time — irritants range from the sense that the entire discussion is a waste of limited time we should spend more productively to the frustration of the well-meaning debater who finds herself up against arguments that don't seem to rely on recognizable standards of evidence. Personally, I find both the near-religious fervour and the extraordinary smugness of many anti-Stratfordians more than a little off-putting. No-one I have ever met, however, is angry because he or she sees Shakespeare's authorial identity under threat.
But I fear things are changing right now in a way that will no longer allow us academic Shakespeareans to opt for the luxury of mute disdain. Forgive me if what follows sounds a little manifesto-ish. It's sort of in the air.
First, there is Roland Emmerich's awesomely benighted Anonymous. I explained elsewhere why I think this is a horrible film, but I'm not at all certain that its sheer badness will dilute its deleterious potential. As James Shapiro reports, Sony Pictures is actively encouraging High School teachers to use the film as a quasi-textbook, distributing ready-made lesson plans in glossy packages that superficially ask students to look into the authorship debate without taking sides even as every page's footer trumpets "Uncover the true genius of William Shakespeare: See Anonymous — in theaters October 28, 2011." Nowhere in these materials are teachers or students told to adopt the position Emmerich, Orloff & Co. have been retailing in various public venues, that the film is "just a movie" and shouldn't be held to the same standards as a work of scholarship, or even a newspaper article. I want to believe that most high school teachers would not delegate instruction in literature and history to Hollywood blockbusters, but I can't say I'm truly confident.
And then there is this: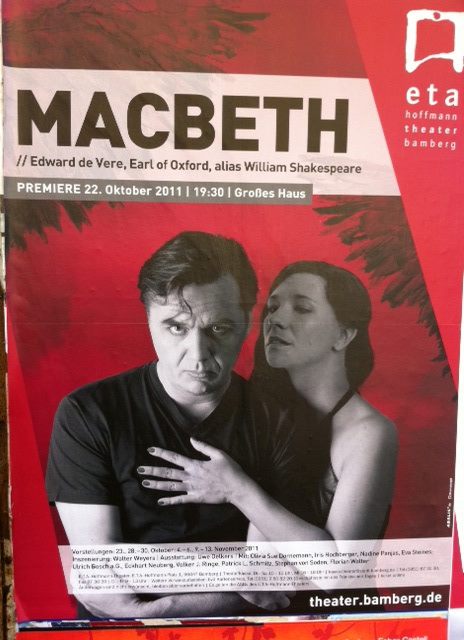 Not only is this a German theatre advertising its upcoming production of Macbeth as by de Vere — it's the municipal theatre of the town I grew up in, the place where as a child I saw my very first play (and my first Shakespeare productions). That one hurt.
The poster has a genealogy, and it's instructive. Two years ago, the same theatre's production of Romeo and Juliet was advertised as Shakespeare's. But last year, the playhouse hosted an interview with Germany's foremost Oxfordian, the publisher and essayist Kurt Kreiler, and after that interview, things changed. Kreiler's book, Der Mann, der Shakespeare erfand (The Man who Invented Shakespeare), which largely rehearses the same arguments as the major Oxfordian publications in English, appeared in Germany last year, was widely reviewed, and received a very warm critical welcome. With academic Shakespeareans leaving the field largely to journalists, the "mystery-like" appeal of Kreiler's narrative seemed to matter more than its credibility. And in the virtual absence of a serious scholarly dismantling of Kreiler's arguments and assertions, they have begun to attain the kind of cultural authority that makes it possible for theatres to present Shakespeare's plays as someone else's without so much as an asterisk alerting audiences to the controversial nature of the claim.
All of which makes me think that we can't afford to ignore the anti-Stratfordians anymore. Worse, it makes me think that it's not enough to deconstruct the intellectual basis of their projects, as Shapiro did so brilliantly in Contested Will. I fear we will actually have to engage with what they consider evidence; we will have to explain, in venues and formats as popular and widely available as those used by the anti-Stratfordians, why their claims don't make sense; and we will have to be much more robust in our presentation of the facts. I don't find this an intellectually stimulating (let alone rewarding) prospect, nor do I think there are many constructive conversations to be had. I also don't relish the thought of having to spend any of my time in the company of Charles Beauclerk's writings. But if we don't take part in the public discussion, if we don't carefully detail our own position and debunk the supposedly skeptical point of view in as accessible a language and manner as the other side, we risk losing by default. Silence will be interpreted as defeat or, worse yet, consent. I've read Much Ado About Nothing. I don't want to be Hero.
If nothing else, a serious engagement with anti-Stratfordian claims might make us better scholars, too. Shapiro in some sense led the way there, in rejecting the recent vogue for biographical readings of Shakespeare's plays, but we should go further. We might as well acknowledge that the entire authorship controversy is Bardolatry's evil twin: without the nineteenth-century invention of Shakespeare as the original genius, we wouldn't have to deal with people who find it hard to conceive of a glover's son in that role. (Before that, a glove-maker was no less suitable a father for a great playwright than a cobbler, a bricklayer, a saddler, an innkeeper, or a coach maker.) And if Harold Bloom's hyperventilating Shakespeare criticism weren't as prominent in the public eye as it is, the anti-Stratfordian view wouldn't receive as much attention either. The more Shakespeare's supposed singularity is emphasized, the more the notion that his biography must be correspondingly exceptional will gain hold. (Stephen Marche doesn't help….)
And we might as well admit that traditional Shakespeare scholarship has its own significant blind spots. One of the Shakespearean arguments one hears over and over again is that Oxford can't have been the true author, because he died in 1604, "before 10 or so of Shakespeare's plays were written" (that's Shapiro in his recent New York Times op-ed, but the point is commonplace). Anti-Stratfordians always call out Shakespeareans for this sort of claim — and they're right. We're far too ready to assert, with an air of certainty, when which plays were written; we rely, far too often, on the magnificent work of fiction known as The Annals of English Drama, or "Harbage." Early modern theatre history thrives on myths and strong (if hollow) assertions. Anti-Stratfordians know this, sort of, and they're happy to point at our naked emperors (blithely ignorant of their own earl's threadbare outfit). I don't think pretending to a certainty we can't honestly — intellectually — defend strengthens our position at all. But if confronting the misguided skeptics allows us to score in the public debate while simultaneously forcing us to interrogate our own practices and assumptions as Shakespeare scholars, I'd be happy if we used that stone for the murder of both those birds.